Everyone knows the struggle: You just wanted to buy a yogurt – and now you are standing in front of three meters of wall shelves and have no idea whether the lactose-free skim milk yogurt or the hip Skyr would suit you better. Where are you even supposed to start reading when everything sounds complicated and a little bit strange?
We have neither yoghurt nor shelf space – but we want to make the choice and the path to the digital future as easy as possible for you. Because for us "keep it simple!" applies to all areas.
We help you with orientation and will be happy to think about what we can develop individually for you, should we not have it yet.
Contact us here directy!
CREATIVE IDEAS
OUT-OF-THE-BOX

---
"If the challenge exists, so must the solution"
Rona Mlnarik
---
TAILORED
TO YOUR NEEDS

You …

… need special solutions?
… have new ideas, but not enough capacity?
… want to digitize more and are looking for starting points?
… have a plan and would like to motivate your employees to get on board?
We know how to do it and look forward to new challenges!
The direct way to us
We are real people – if you want to talk to us, you don't have to go through a cross-examination with a tape first. We are a motivated team happy to visit your construction site from time to time to understand exactly what you are doing and what needs to be done. Because construction sites are great and we always like to see how our products in action!
Our managing director, founder and absolute multitool. From challenging large scale construction sites to unusual electronics projects to innovative research ideas and cross-industry fantasies – Philipp has an open ear for particularly demanding projects and is happy about every opportunity to get a taste of the construction site to stay close to our customers.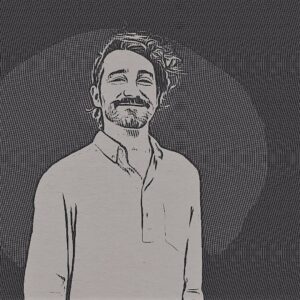 Just like in a movie where the doctor has his suitcase to hand at all times, Peter is well prepared for any eventuality and has a cleverly thought-out set of tools and auxiliary materials with him for a "home visit" so that he can not only manage your processes if necessary , but can also see the structure of your devices in detail.