Winter water is coming. In our industry, this is usually not a reason to be happy, but when it comes to diaphragm walls, water (in combination with bentonite) is absolutely necessary. To ensure that there is always enough fluid inside the diaphragm wall to stabilize it, it needs a guard who sounds the alarm when the wildlings are approaching the level drops below a critical level: eguana CROW.
Like Jon Snow, Lord Commander of the Night's Watch and Warden of the North, CROW is always on top of things. The innovative, electronic diaphragm wall monitor has been in use on the construction site since april 2021. It is easily attached above the diaphragm wall and automatically measures the water level. We talked to foreman Walter Ortner from PORR AG and eguana software engineer Joachim Ofner about the necessity, function and the first flight attempts of our CROW.
*****
Hello Walter, hello Joachim! Thank you for taking the time to answer a few questions about CROW. What is a diaphragm wall and why do you need someone or something to guard it?
Joachim: By definition, a diaphragm wall is "a protective wall that is manufactured in sections in a floor slot". During manufacture, the space between is filled with a support fluid to ensure soil excavation and thus prevent a collapse.
Walter: It's normal for some of the support fluid to seep into the ground. Before it falls below a critical level at which the support capacity is no longer given, the fluid needs to be "refilled". It is therefore important to continuously monitor the level of support fluid in diaphragm walls.
To illustrate the importance a bit, diaphragm walls are also used to support neighboring buildings when one building is erected very close to another. If the supporting liquid in the slot sinks too far during the construction and the support is no longer given so that the slot collapses, this can have a very negative effect on the statics of the neighboring building. In this case, the situation is probably so critical from an insurance point of view that the construction manager will personally stay overnight on the construction site until the problem is solved. But in such a case, one would certainly like to have an electronic diaphragm wall monitor that sends alarms before critical levels have been reached …
How have the water levels been checked so far? What is the alternative to CROW?
Joachim: Until now, diaphragm wall guards have been actual people who drive to the construction site to check the level of the support fluid there. Or very complex and error-prone constructions that have to be positioned over the slot using a crane. Of course it's all about the time when nobody else would be there, for example at night and on weekends. This is expensive and checkups cannot happen every 10 minutes. Our CROW on the other hand loves to that (and also all weekend long).
And what exactly is CROW doing?
Joachim: Basically, it measures a distance of up to four meters from objects with an accuracy of about 1 centimeter. The sensor emits light that hits an object and then measures the time it takes for the light reflected back to the sensor. By attaching it over a diaphragm wall, the current level of the supporting liquid can be measured – almost like Superman's laser eyes. But I don't know if Superman ever used them to measure distances…
CROW is a sensor of our data logger MERLIN. That is, MERLIN can measure distances through CROW. He then sends these to eguana SCALES. The data is logged and, like all other data, is available on the platform at all times. By constantly logging the level, it is possible to estimate when the support liquid needs to be refilled. In addition, alarms can be sent to the people responsible, who can then react faster and better.
What gave the impetus for its development?
Joachim: Our partners from PORR initiated the topic with us. It's expensive for a contractor to keep having someone on site over the weekend just to check the level. Stefan Fuchs [note: the PORR project manager spoke to us a while ago about TempJet, a system for determining the diameter and cement content of jet grout columns] and Walter Ortner were the driving forces without which our CROW would probably not have learned to fly.
Did you know from the beginning how the end product should work?
Joachim: During the early stages we considered installing a camera at the diaphragm wall to be able to check on the level from a distance. However, this is more expensive than measuring a distance directly: you would also have to attach something like a yardstick to the diaphragm wall for the observer to know the water level. And it would also bring other problems with it: Surveillance cameras on the construction site would have to be approved. Would we have to make people seen on the footage unrecognizable for data protection reasons?
Where and since when is Crow successfully in use?
Joachim: After a rework in autumn last year, the new version has been used on a construction site in Vienna since February 2022.
First, Crow was set up in addition to normal operation as a test. In the meantime, however, trust in the device has increased. Now Crow is in constant use and is already making itself really useful.
As a customer, can I choose the color?
Joachim: That would be possible in principle. But there hasn't been an inquiry about it yet, presumably because after a while it's speckled in the uniform concrete slack gray of a construction site anyway.
How robust is CROW? I'm thinking of MERLIN, which easily survives getting run over by a car.
Joachim: It's still in the prototype stage, which means it's currently in a 3D-printed plastic housing. The functionality is already there, but we want to make it even more robust in the future, and the lens still has to be better protected against dirt and scratches. That is why we are going to protect it with an aluminum housing, just like MERLIN.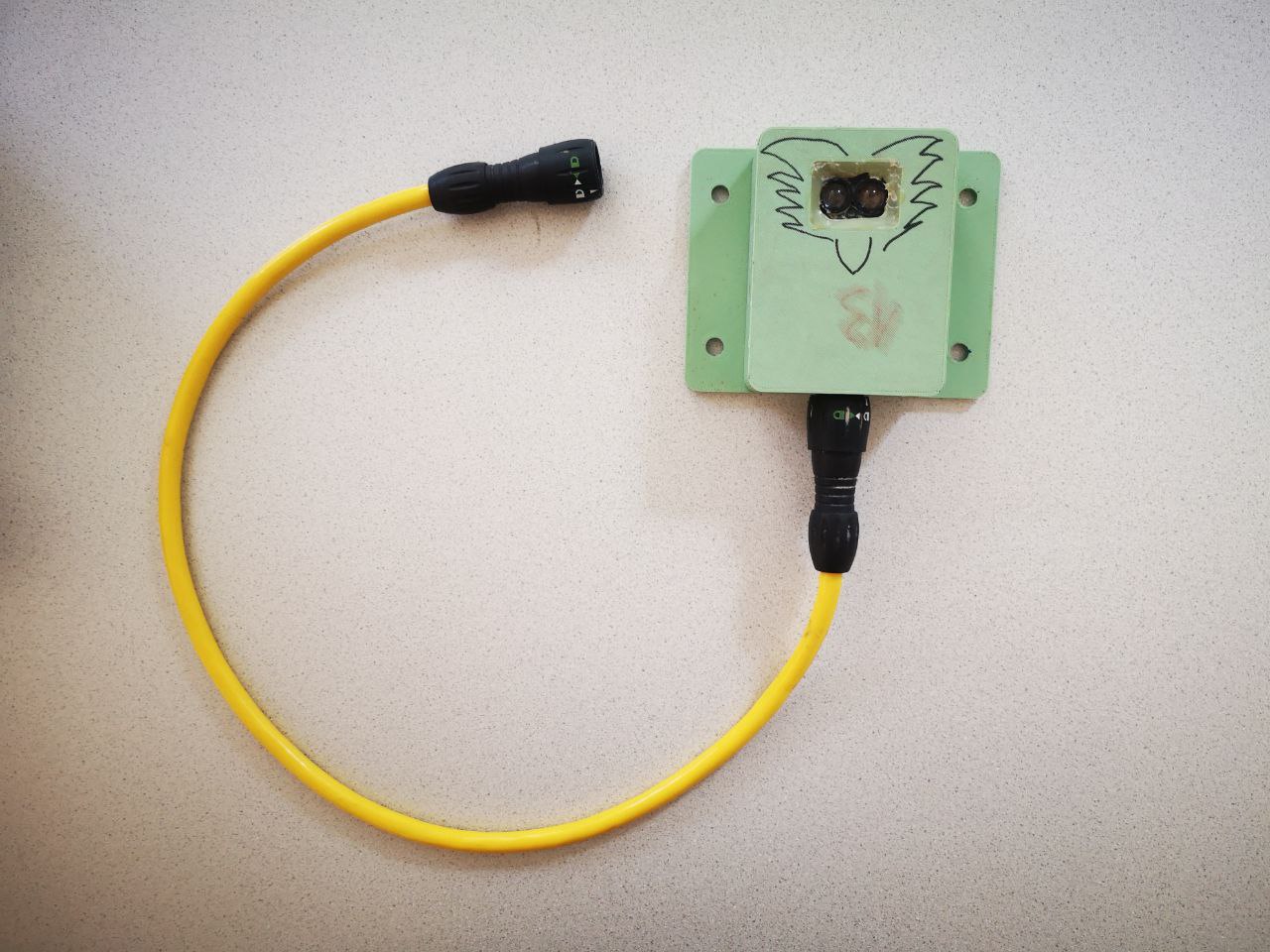 CROW can be used in many ways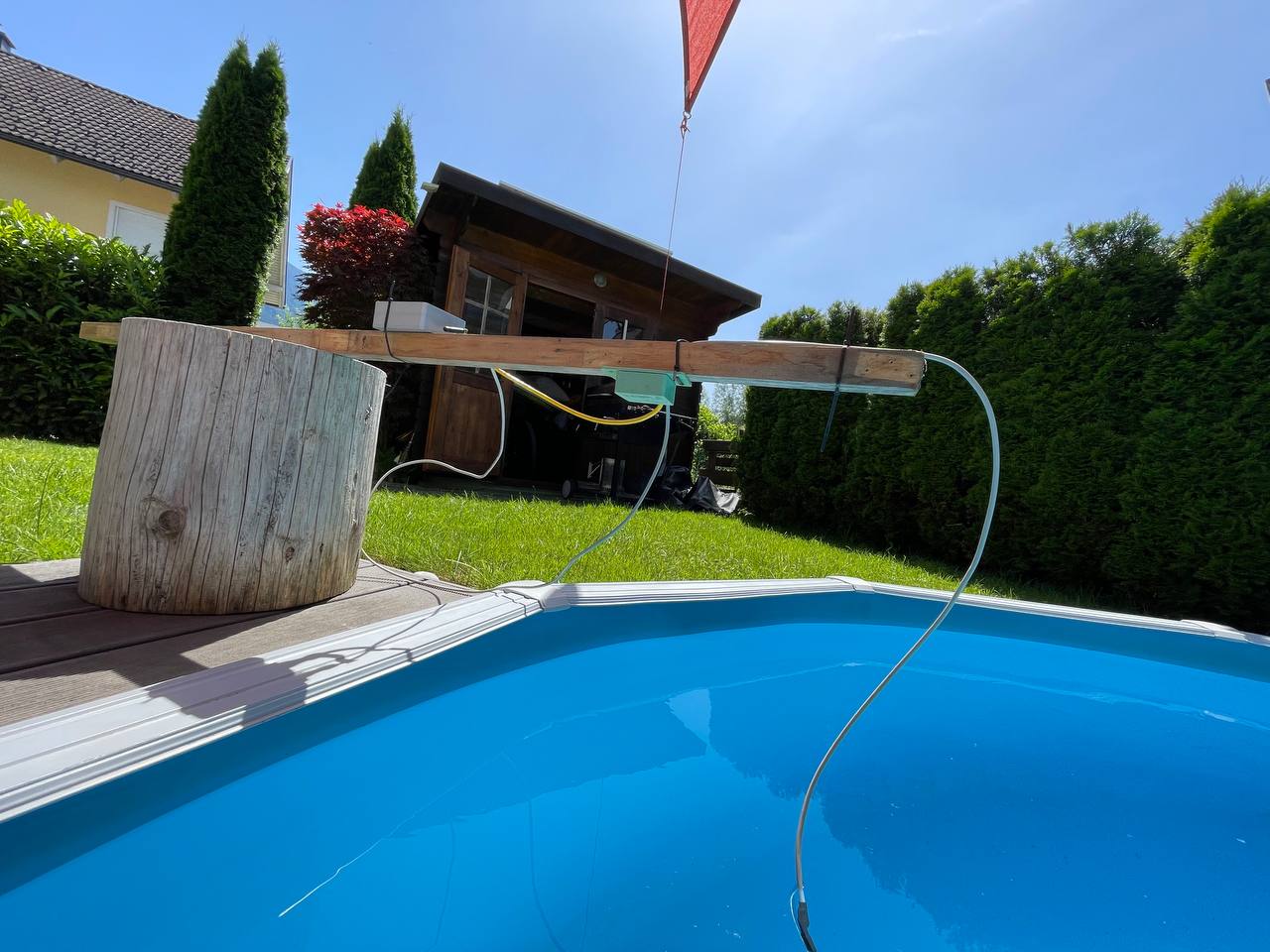 Pablo uses it to keep an eye on the water level in his pool.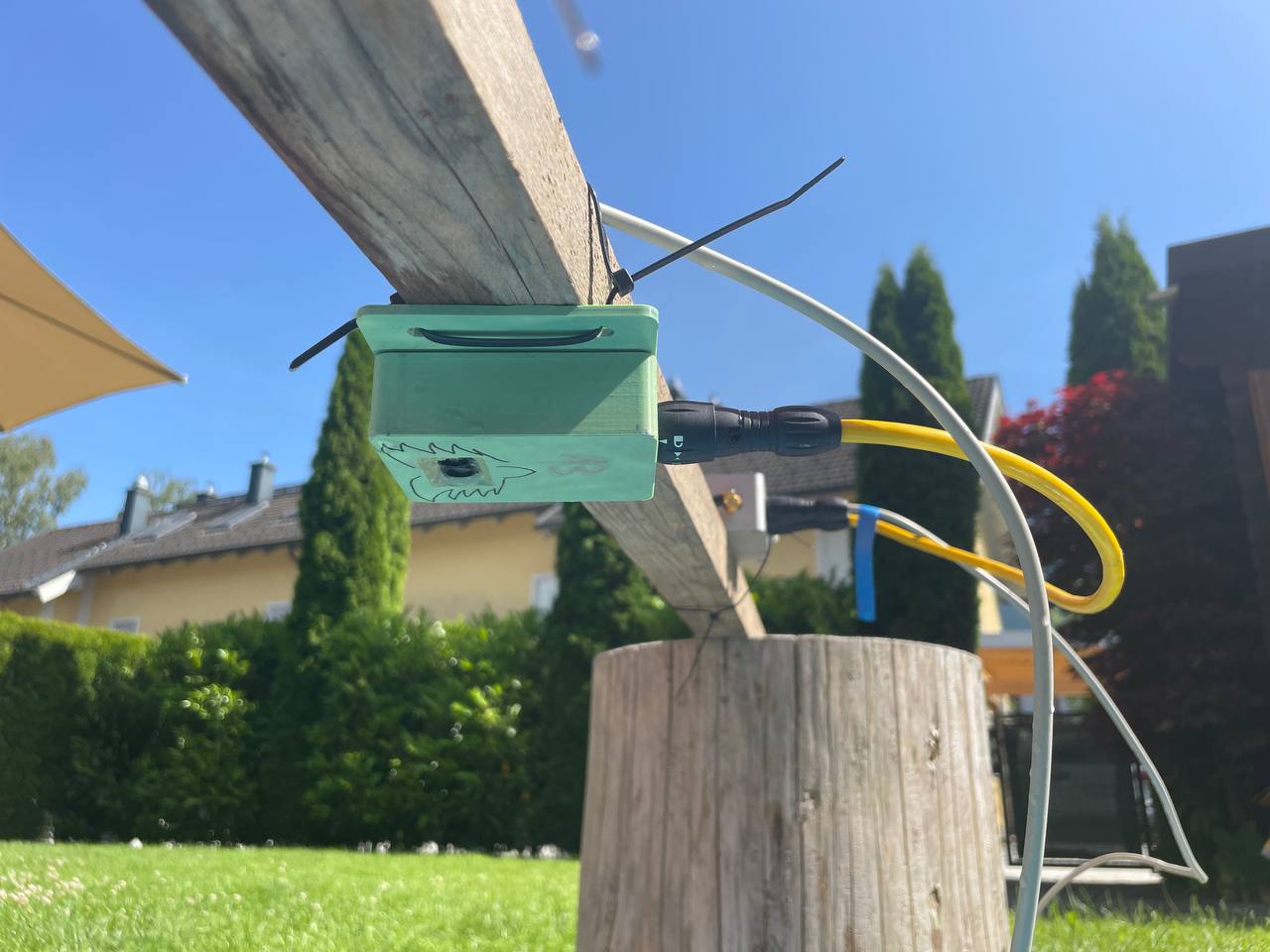 CROW is a sensor of the data logger MERLIN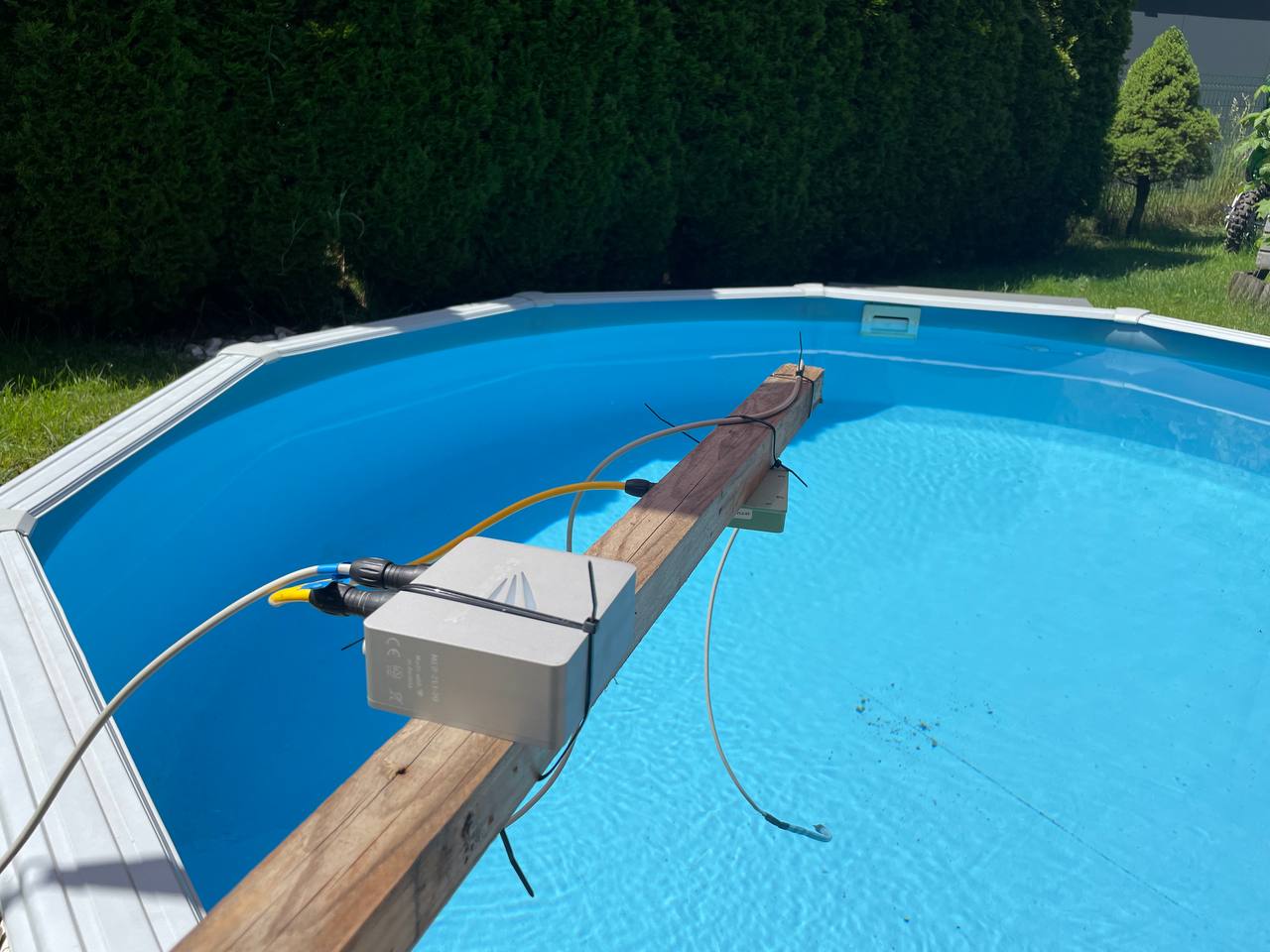 MERLIN (the gray box) measures distances through CROW (the green box) and sends them to eguana SCALES.
Paper bottlenecks can be avoided …
… coffee bean stocks can be monitored …
… and toilet emergencies can be prevented.
You mentioned a rework last fall. Did everything go according to plan during development? I remember that Florian was about to throw the little guy out the window several times with an unnerved "Fly, little CROW!".
Joachim: It really wasn't easy and we wanted to give up more than once. The last hardware version worked wonderfully in the laboratory, but as soon as we tested it on the construction site, the measurements were partially unusable, without a reason that we could identify.
So we tried to simulate the environmental conditions of a construction site. Flo had the sensor measure the water level in his rain barrel in his garden at home. But what worked day and night, in sun and rain, suddenly no longer worked on the construction site. That's how a NASA engineer must feel, trying to debug a rover on Mars only with data that is sent to Earth and an identical rover in the laboratory, where Martian conditions are simulated…
Sounds like that almost put an end to Project CROW?
Joachim: That's right. Quite unnerved, we started one last attempt last autumn and tested some sensors of a similar kind for their suitability as diaphragm wall monitors. One of those sensors did what we wanted it to do! But construction sites are tough and we're excited to see what challenges the little CROW will have to face in the future.
*****