The year is drawing to an end and right on time, like clockwork, people are getting into the Christmas stress. Already, the first Christmas markets have opened and by advent time even the loneliest hermit will be carried away by the annual Christmas gifts panic. While crowds of people are being pushed through shopping malls on the search for the perfect present, we dedicate our today´s blog entry to a similar topic: the packer.
The advent is close, so we have ordered Angels (the name is Engel in German) for today´s article. They come in doubles at Desoi: Michael Engels and Franziska Engel enlighten us about what a packer actually is, what it is used for and how crucial it is for a successful injection.
****
Basically, a grouting packer is a technical support for the grouting process (if you would like to know more about this topic, you should have a look at our blog entry "Patty-Cake, Patty-Cake, Patty-Cake"), which assures a safe link between grouting equipment and grouting material, and through which certain fillings flow under pressure.
The agony of choice
Like presents, packers come in different sizes and diameters. While the smallest are only about 5 centimetres long, packers with a length of up to 3 metres are used for large cracks and cavities – and then there are special constructions for certain customer demands. But they do not only differ in their sizes:
Drilling packer, steel packer, blind packer, wedge packer, adhesive packer, nail packer, impact packer, swelling packer, 1-day packer, hydraulic packer, screw packer, span packer, and so on. This list is not exhaustive. The list is approximately as long as an average Christmas letter which is send to the North pole every year.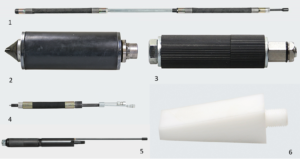 Then there are of course differences regarding their materials as well. For example, packers can be made of steel, stainless steel or plastic – or of a mix. Almost everything is possible.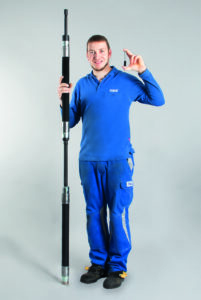 Well
packed up

installed is half the battle: save link to building or subsoil

As diverse as packers are, as versatile is their usage. The principle is rather simple: first, a hole is drilled, then the packer is inserted and braced in the hole.

In the case of a steel packer, the bracing is done via a so-called rotary-handle that braces a hollow rubber axial. If it is a plastic packer, the lamellar form enables a sealing already with the impact. Furthermore, a packer can be affixed on a crack in the subsoil or wedge-like hammered in. Hydraulic brace able packers or also swelling packers are used to be braced over a medium like water for example.

After completion of the grouting process the packer is removed, or non-corrosive parts simply remain in the building, and the drilling hole is sealed. According to its usage, a packer can be reused afterwards, or not.

The number of packers used for the injection process varies accordingly.
Vast application spectrum
For every application purpose, there is the right type of packer. You want to seal something? No problem, compadre. Or you rather want to fill something? Con gusto, mi amor. Here some examples where packers are the solution to the problem:
Subsoil solidification: if the subsoil has to be solidified or a building be underpinned, ram injection lances are used. These steel pipes are rammed into the subsoil without pre-drills (as long as it is not solid rock – otherwise you have an additional broken packer) and compressed. Via openings on the side, the grouting material (a mineral filling) can be inserted to the ground – depending on the soil conditions, ram injection lances get deep down into the subsoil so it can be properly stabilised.
Horizontal waterproofing: a well-known problem – water ingress. To avoid that damp soil rises and penetrates a component, the floor needs to be sealed. For this, hydrophobic materials are used, which have water repelling characteristics and can block the water.
Cavity filling and crack repairing: just imagine, the laborious constructed building has cracks. Of course, they need to be filled. With filling materials, cracked components are connected, leakages sealed, and masonry solidified and stabilised.
Curtain and surface injections: this grouting method is used when engineering and traffic constructions or housings have to be sealed subsequently. The curtain injection is used when the building needs to be sealed inside from exterior dampness ingress. The surface injection on the other hand is used for sealing layers inside a construction component.
Correction of an abortive drilling or closure of a planned drilling hole: yes, even this can occur every now and then. A blind packer can help to seal the abortively drilled hole fast and safely. It is put into the opening, braced, and then protects from water, pollution, vermin and similar.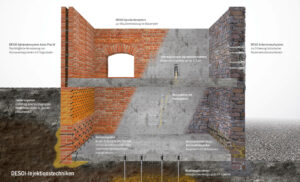 I am packing my packer. In my packer I pack …
So that not just an empty box lies underneath the Christmas tree, of course, it needs the appropriate filling. Similar to a box without content, is the packer without filling material – a disappointment. However, the packer is only a means for the purpose because the filling only flows through it. Filling materials are classified in polymers and minerals.
Polymeric fillers include epoxy resin (EP), polyurethane resin (PUR) and high-foaming polyurethanes (SPUR). Polyurethanes come in different properties and manifestations (hard and brittle, soft and elastic, …). What they have in common is that they react quickly and with normal water. Epoxy resin is characterized in that it can be easily distributed in the liquid state. As a result, it achieves a high penetration depth.
Mineral fillers are, for example, cement suspensions, injection mortars and acrylate gels. Cement glue is probably the most elementary injection. The simple mixture of water and cement is used to fill cavities and cracks. Injection mortar is a plastic mass that gets a high compressive strength through the addition of sand and does not run away. Acrylic gel is chemically very stable and has a very low viscosity in the liquid state, similar to water. It is used for subsequent sealing, for example, joints and cracks, masonry or even to set later horizontal barriers against ingress of water.
***
After choosing the wrapping paper and the content, all that is left is to wait for Santa Claus the Christkindl.
We dearly thank our helping elves guest authors Franziska Engel and Michael Engels for this article and wish them and our readers a contemplative advent. And who knows, maybe there will be a packer underneath the Christmas tree this year.
***
Guest authors:
Michael Engels: born 1975. The graduate engineer and industrial engineer has been working for 15 years already at the Desoi GmbH. As managing director, he has pushed forward the internationalisation of Desoi and is always on the hunt for product improvements and innovations. Before, he worked for various corporations. His spare time, he likes to spend with his wife and three kids, and he is also engaged voluntarily in various associations and federations.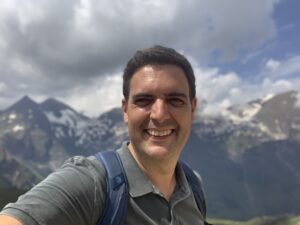 Franziska Engel: born 1996, she is responsible for media design at Desoi since 2019. Her focus is the development and design of the social media strategy. Bevor working for Desoi, she collected work experience in an advertising agency. Outside her job, she is helping voluntarily in a children and youth association.
If you would like to know even more about Packer, best watch this video about crack injection with steel packer from Desoi.
Credit Cover Picture: DESOI GmbH